¿Quienes Somos?
Siempreverde es el resultado de la energía, experiencia y pasión de los californianos Tracy Katelman y Lance Morton.
Como Llegamos a Pucón?
Tracy se enamoró de Pucón en 1993 cuando por primera vez visitó el pueblo y el Santuario Cañi, el primer parque privado de Chile. En 1994 ella se convirtió en co-propietaria de la Hostería ¡école! que, según Lonely Planet, estaba entre los primeros negocios de eco-turismo en Sud América. Desde ese entonces que el sueño de instalarse a vivir en esta localidad comenzó a germinar en ella. Tracy y su marido Lance Morton se vinieron a vivir a Pucón el 2007 luego de que Lance se jubilara, donde han comenzado a echar raíces.
Nuestra Historia
Tracy estudió Conservación y Ciencia de los Recursos en la Universidad de California en Berkeley donde se especializó en agricultura orgánica, energía alternativa, y tecnología apropiada. Luego ella estudió un Magister en Berkeley en Ciencias de Recursos de Tierra Silvestre enfocándose en la ecología de bosques y restauración.
Luego de terminar sus estudios, y durante las siguientes dos décadas, Tracy trabajó en el área sin fines de lucro en California. Su trabajo se enfocaba principalmente en la conservación y manejo sustentable de bosques templados (especialmente en California y Chile). Ella también ayudó a aunar las distancias entre los movimientos de trabajo y medio ambientales bajo el estandarte de la Alianza para Alliance for Sustainable Jobs and the Environment. Desde que llegó a vivir a Chile, Tracy ha continuado con el trabajo de conservación de bosques como co-fundadora y miembro activa de Etica en los Bosques.
Los antecedentes de Tracy como proveedora de productos sustentables verificables a consumidores se remonta a la década de los 80´s con su participación en los orígenes tempranos de la certificación de comida orgánica en California. En los 90´s ella ayudó en la co-fundación del Forest Stewardship Council, para certificar prácticas a nivel mundial del manejo sustentable de bosques en términos de ecología y economía, especialmente donde ella vivía y trabajaba en California del Norte.
Lance comenzó su carrera profesional aproximadamente 40 años atrás en los servicios de salud mental comunales en California. Él jubiló el 2007 como Director del Departamento de Salud Mental y Administrador de los Programas de Droga y Alcohol para el condado de Humboldt, California. Sus estudios de pre y post grado fueron en Trabajo Social en la universidad estatal de San Diego.
La carrera profesional de Lance lo expuso a la degradación ambiental a la que las clases sociales sin voz y los dependientes de los sistemas de salud mental comunales sufren, y a los efectos que la contaminación tiene en el bienestar de familias, especialmente a las que están en riesgo. Es por esto que siempreverde es la extensión perfecta del compromiso de Lance para el mejoramiento de la comunidad donde él vive, que ahora es su país adoptivo Chile.
Equipo siempreverde
El equipo de trabajo de siempreverde está constituido por personas jóvenes y entusiastas que apoyan el compromiso de Tracy y Lance hacia el medio ambiente. Son bilingües y en algunos casos nacidos fuera de Chile. Aparte de compartir con clientes el significado de que un producto sea "verde", cada miembro del equipo de trabajo tiene un rol en el funcionamiento de la tienda (por ejemplo, pedido de productos, inventario, marketing, TI, etc.) y trabajan juntos como un equipo. Si te interesa trabajar con nosotros, estamos, en algunas ocasiones, buscando a personas bilingües (Español e Inglés), motivadas, bien organizadas y que entienden qué significa vivir de una forma ecológica. Si este es el caso, por favor envíanos un email y cuéntanos porqué estas idealmente situado para trabajar con nosotros!
Siempreverde is the product of the energy, experience, and passion of former Californians Tracy Katelman and Lance Morton.
How We Got to Pucón
Tracy fell in love with Pucón in 1993, when she first visited the town and the new Cañi Forest Sanctuary, Chile's first private park. In 1994, she became a co-owner of Pucón's Hostería ¡école!, which according to Lonely Planet was among the first ecotourism businesses in South America. At that time, the dream of putting roots down in Pucón started to grow in Tracy. She and her husband Lance moved to Pucón in 2007 after he retired, and have since been making their home here.
Our Story
Tracy pursued Conservation & Resource Studies at the University of California at Berkeley, where she dedicated herself to organic agriculture, alternative energy, and appropriate technology. She then followed with a master's degree in Wildland Resource Science, focusing on forest and landscape ecology and restoration.
After completing her studies, Tracy spent the next two decades working in the non-profit arena in California. Her work was focused mainly on conservation and sustainable management of temperate forests (especially in California and Chile). She also helped to bridge the gap between the labor and environmental movements in the US under the banner of the Alliance for Sustainable Jobs and the Environment. Since moving to Chile, Tracy has continued her forest conservation work as a cofounder and active member of Etica en los Bosques.
Tracy's background in providing consumers with verifiably sustainable products dates back to the 1980s, when she was involved in the early days of certification of organic food in California. In the 1990s, she helped to cofound the Forest Stewardship Council, to certify ecologically and economically sustainable forest management practices worldwide, especially where she lived and worked in Northern California.
Lance began his career nearly 40 years ago in community mental health services in California. He retired in 2007 as the Director of the Department of Mental Health and Administrator of the Drug and Alcohol Programs for Humboldt County, California. His undergraduate and graduate degrees were earned in Social Work from San Diego State University.
Lance's career exposed him to the environmental degradation and effects of pollution often experienced by members of the under-represented social classes and those dependent on community mental health systems. Hence, siempreverde is a perfect extension of Lance's commitment to bettering the community he lives in, which now is his adopted country of Chile.
siempreverde's Team
The staff at siempreverde is made up of enthusiastic people who support Tracy and Lance's commitment to the environment. They are bilingual and in some cases born outside Chile. Aside from sharing with customers what it means for a product to be "green," each staff member has a role in the functioning of the store (e.g. product ordering, inventory, marketing, IT, etc.) and all work together closely as a team. If you are ever interested in working with us, we are occasionally looking for bilingual (Spanish and English), self-motivated, well-organized people who understand what it means to live ecologically. If so, please send us an email and let us know why you are a perfect match for us!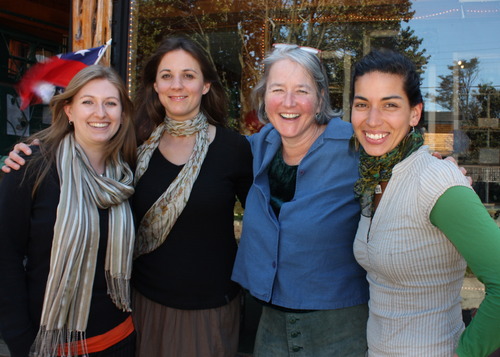 Yanieke, Julie, Tracy, y Paz en nuestro lanzamiento (ago 2011)
Yanieke, Julie, Tracy, and Paz at our Grand Opening (aug. 2011)